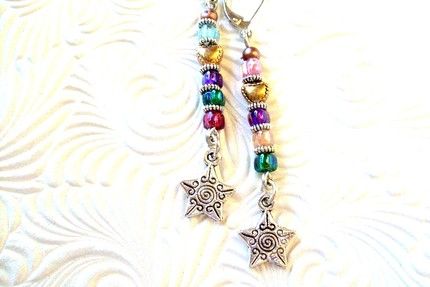 I've been honored by a fellow etsian, CutiePatootieBeads to receive the The Premio Meme Award for my blog. I'm supposed to share seven things about my personality, then pass the award and meme on to seven other bloggers for them to do the same. What a great way for us bloggers to get to know each other!
You can visit her shop at
http://cutiepatootiebeads.etsy.com
She makes super cool jewelry beaded, woven and wire wrapped. Check her out!
In order to accept this Award I must share 7 things about myself.
1.I love to read
2.I highly enjoy reality television, even though its prob junk food for the mind
3.I could die in a vat of chocolate brownie batter and die a happy girl
4.My fav movie is Dazed and Confused
5.I have a sick and twisted sense of humor, but tend to surprise people cuz they think I have an innocent face :P
6. I love sushi
7.I hate cleaning
As required by being an Award recipient I'm bestowing this Award on 7 other famous bloggers: Please copy and paste this text and do the same! yay!
http://loveclayblog.blogspot.com/
http://apronsandmore.blogspot.com/
http://mbell34etsy.blogspot.com/
http://myveryprettythings.blogspot.com/
http://1logoaday.blogspot.com/
http://baremoose.blogspot.com/
http://panda-boutique.blogspot.com/