I have some new fan pulls that I'm really excited about! Yeah, I know, who would be excited about a ceiling fan pull? Well, I am! lol! I really believe it is those little touches that make a room complete... A fan pull, a pretty finial for your favorite lamp, a beautiful print, a pretty piece of pottery, or even a beaded vase (I'm working on that!)...
Some new examples...
This one reminds me of a cinnamon bun!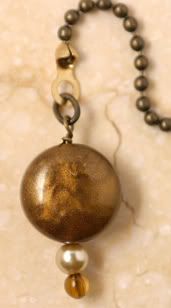 A glam look, reminds me of a disco ball!
This one reminds me of sweet strawberry candy!